TO STASH WORLD AAAND BEYOND!
The Beyond Stash World series explores the humans behind the stickers and stationery that we have the pleasure of stocking. Learn more about what inspires your fave makers and where you can discover more of their creations. 
Tell us a little about who you are and where your love of art began? Please include a photo of yourself 
Hi, l'm Emily (but l prefer Em), and l am a 22-year-old living on the Gold Coast, Australia! l am a dance teacher assistant/costumier/anything creative aficionado at a high school. l run my sticker shop purely because it is my little happy space where l can create whatever l want and connect to people around the world through happy mail. This year will be my 5-year anniversary!! In summary - my life is surrounded by cats, stickers, costumes, and nature :)
Please describe your creative space – whether it's your art studio or the backyard.
Usually a mess. l have a small desk to attempt to reduce the amount of work l have in front of me at once, but this doesn't really work. Finding the proper storage took years but now l am finally happy with how l store my inventory whilst also avoiding my room looking like a bombsite. I do make sure I get a bit of variation; sometimes my creative space is a random destination, as long as l have nature around me l can create.
What inspired you to start your business?
At the end of high school l felt the usual pressure of needing to pursue something in an academic field after graduation. I needed a creative outlet for myself while I was at university and that is how my Etsy store was born. l had a bunch of designs already, so l just started making them into stickers and art prints. Now l get to create something completely different every day and l call it my job! It's just evolved into something l didn't think was even possible.
Tell us about the inspiration behind some of the pieces you've made.
Anything really: movies l am watching, places l have visited or even random treasures l find (l have always been a collector of specimens and rocks). I can find inspiration in almost anything - i'm basically a child so that's hardly surprising.
Who's your favourite singer or band at the moment? 
l don't really follow individual artists when l'm searching for new music, I more often find individual songs that I enjoy. l am, however, loving Maya Hawks songs (if you're looking for something relaxing definitely recommend).
Are you a sticker user or do you hoard them? 
Definitely a hoarder. l am constantly worried l will want them somewhere else and will regret it. Ironically l don't own many stickers other than what's in my own inventory.
What do you enjoy doing when you're not making your art?
l don't know if this counts but making props/costumes for musicals or the high school Performing Arts Department l work at. Which l guess is still art… so when l'm doing nothing creative (which is very rare) l'm either stretching or snuggling with my cats.
Of course, we have to ask, what's your favourite sticker you've made?
Cat in a box hands down. So simple, yet so funny to me.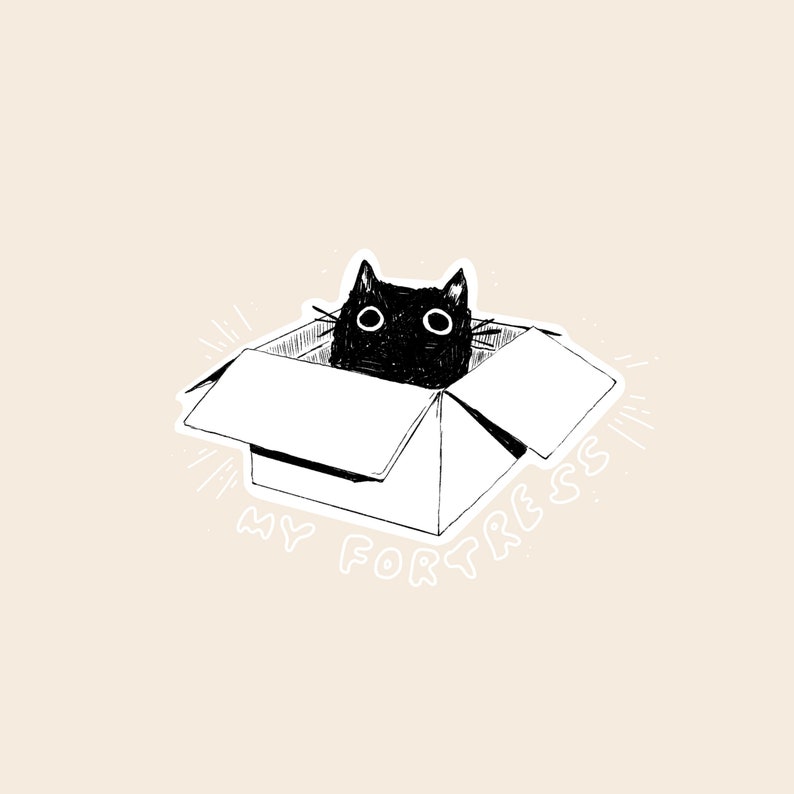 Where can we find you?
Etsy: simplymstore
Instagram: @emily.lamburd